I have to admit that I was honoured to be contacted about this blog tour. This book was one I wanted to check out but I didn't think I'd get the chance to do this. I did have to try to speed-read the book but fortunately, I was able to get through it super quickly. Always a good thing in my book.
Title: The Orphanage of Gods
Author: Helena Coggan
Age Range: YA
Genre: Fantasy
Publisher: Hodder and Stoughton
Release: 21st February 2019
Twenty years ago, the humans came for their gods.
In the bloody revolution, gods were all but wiped out. Ever since, the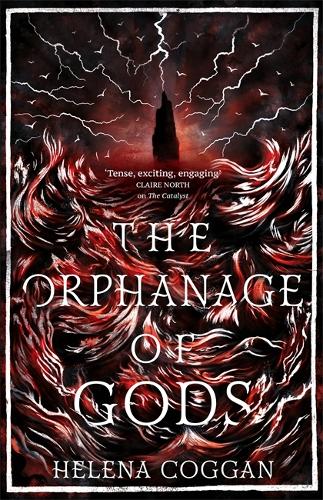 children they left behind have been imprisoned in an orphanage, watched day and night by the ruthless Guard. Any who show signs of divine power vanish from their beds in the night, all knowledge of their existence denied.
No one has ever escaped the orphanage.
Until now.
Seventeen-year-old Hero is finally free – but at a terrible price. Her sister has been captured by the Guard and is being held in a prison in the northern sea. Hero desperately wants to get her back, and to escape the murderous Guardsmen hunting her down. But not all the gods are dead, and the ones waiting for Hero in the north have their own plans for her – ones that will change the world forever . . .
I don't know quite what I was expecting with this book. It's a very lyrical fantasy that reminds me of Laini Taylor or even some of Lauren Oliver's stuff. There's a lot of dialogue but some really interesting description. I'm not a huge fan of what I call "floaty writing" but there's a lot of action to balance it out.
There were a few issues with the writing and even when celebrating this book I do have to point them out. A lot of the dialogue seemed repetitive, even though the world building was fascinating I'm not sure there was enough of it and sometimes due to a skip in character POV some important action was missed out.
But the world building really was interesting. I want to know how these gods came to be, more about the guardsmen and more about the places in general. There was very little setting and that could be because this was a very character driven novel. Which is okay. The reader is never left lost, I just think there could be more stories in this world that I'd love to read.
The book itself is split into three different perspectives each with its own distinctive voice. You have Hero; a demi-god with healing powers who escaped the orphanage; Raven; a young demi-god shapeshifter who is being groomed into an unknown future with the resistance and Kestrel; the human sister who was captured by the guardsmen.
With Kestrel we actually get a queer romance. I can't be certain if she's bi, pan or even demiromantic to an extent but there is a romance between her and another female character. It is slightly questionable but then when you read the ending you're very sad and feel for them. That's all I'm saying. But I'm all here for the LGBTQA+ representation especially as there's not a huge amount of f/f in YA. We need to shout about these diverse reads all we can.
In the end, this book wasn't one that was hugely me. The writing style didn't really suit me but I appreciate it for what it is and I know a lot of people out there will love it.
If you're looking for a dark but lyrical fantasy then this is the book for you.
3/5 Stars